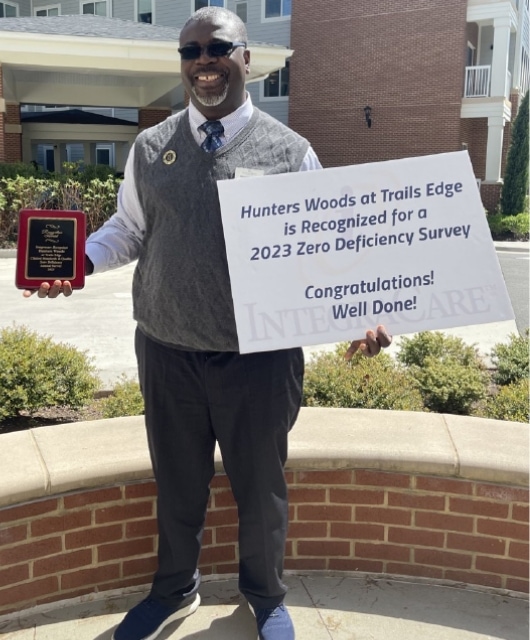 Hunters Woods at Trails Edge EOO William Adjei holds a plaque and a sign commemorating the senior living community in Reston achieving a zero deficiency survey following a state inspection.
Hunters Woods at Trails Edge Achieves 'Extraordinary Accomplishment'
RESTON, Virginia – Traditionally, in competition the participants strive to tally as many points as possible, or attain a high score. But sometimes, Zero is No. 1.
The team at Hunters Woods at Trails Edge recently "scored a zero" and appreciated the significance of such status. The community in Reston received a deficiency-free rating after the Commonwealth of Virginia's annual inspection.
"This accomplishment is extraordinary," said Larry Rouvelas, Chief Executive Officer at IntegraCare, which manages the community. "Most senior communities go decades without a deficiency-free survey, if ever. Those communities do not have the Hunters Woods team."
The senior living community relied on experienced team members whose hard work, dedication and inclusive culture helped provide a high level of care to the residents, according to William Adjei, Executive Operations Officer at Hunters Woods at Trails Edge.
"This survey reinforces the fact that our team is providing the best services available for our residents as we meet and exceed the requirement of the state," Adjei said. "Dedication, hard work, tenacity and a working culture are just a few of the traits that our team displays on a daily basis."
IntegraCare operates 18 senior living communities in three states. For over two decades it has stressed its 3-Dimensional Focus, which focuses on improving the quality of life for its team members, residents and their families.
The 3-Dimensional Focus played an important role in Hunters Woods at Trails Edge's deficiency-free survey. Rouvelas used an analogy to illustrate the survey in a senior living community.
"When you enjoy a cruise ship, yes, you want it friendly, elegant, fun and calorie-filled," Rouvelas said. "But below the water line, you also want to know the engine room runs well, the hull doesn't leak, and the kitchen is clean. In short, you want a sound ship."
"The Commonwealth of Virginia wants its seniors to live in sound communities. Virginia details its requirements across hundreds of pages of regulations," Rouvelas continued in a message to residents and families of Hunters Woods at Trails Edge. "They cover things like medication management, staff training, hiring background checks, rigorous billing, resident privacy, among myriad other areas."
"Then, Virginia sends the inspectors. Boy, do they inspect: interviewing residents and team members; reaching into the backs of med carts; cross-checking doctors' orders vs. assessments vs. care plans vs. assignment sheets; measuring water temperatures, their probing goes on and on."
"When the inspection is completed, zero is the place you want to be," he said. "That place is Hunters Woods at Trails Edge."
Hunters Woods at Trails Edge's Adjei isn't done yet. "We have created a culture that includes all stakeholders to promote the well-being of residents," Adjei said. "The bar has been set high for quality care and a great working environment. The goal is to work with stakeholders to maintain the standards and get even better."
For more information, contact William Adjei, Executive Operations Officer, Hunters Woods at Trails Edge, at wadjei@integracare.com or 703.429.1130.