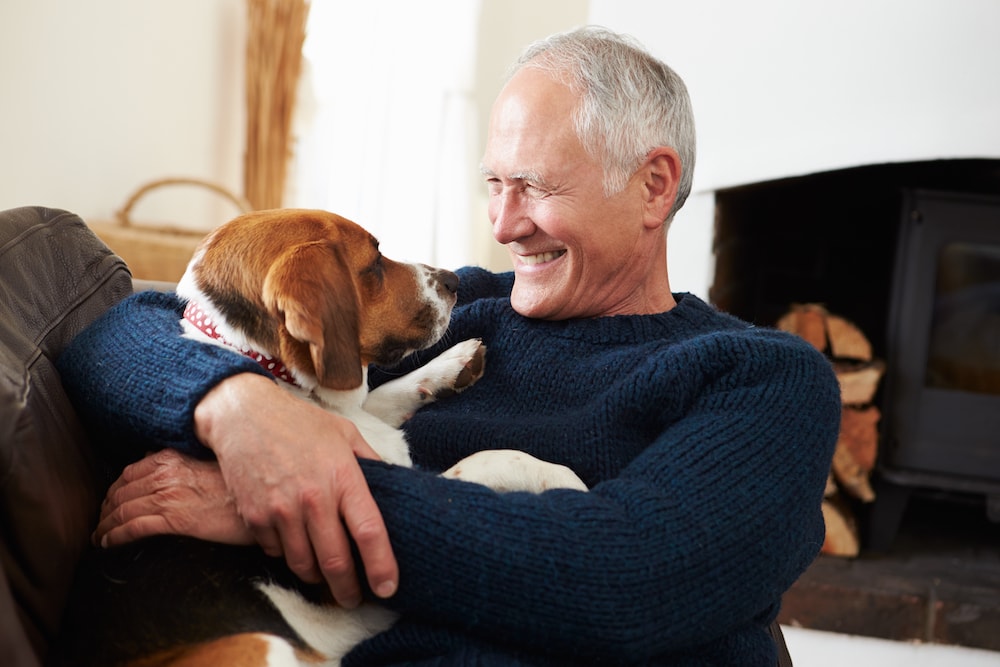 Pets often provide a significant boost to their owners' health. Senior dogs, cats, and birds are especially beneficial to those with declining health or who must endure treatments that may cause pain or discomfort. Without the emotional support of a furry friend by your side, many elderly people would likely suffer from depression. Here we outline 15 ways that pets can bolster senior health.
1. Pets Provide Physical Therapy
Hospitalized people who are unable to move around may enjoy the physical and mental stimulation offered by pets. In addition, the psychosocial benefits of pet therapy, which is a form of rehabilitation therapy, can be tremendous, according to recent studies. Pets have even been shown to improve recovery time, reduce anxiety and stress levels, lessen depression and loneliness, and boost self-esteem.
2. They Help Induce Sleep
Studies have shown that pets in the bedroom can help people sleep better. In fact, many hospitals and healthcare facilities allow people to keep pets in their bedrooms to boost recovery time and reduce stress.
3. Pets Help Reduce Pain and Stress
Many hospitals and healthcare facilities allow pets in hospital rooms to reduce pain and stress levels for their owners. According to the American Hospital Association, research has shown that pet therapy can:
       

improve recovery times by 41 percent

       

reduce negative emotions such as anxiety, depression, and stress

       

heal the body through exercise
4. Pets Help You Have a Sense of Purpose
Pets are little hearts who need and want your love and care; they remind you of what is important in life, which may be harder to remember as you get older or if you're in poor health. They help you live your life to the fullest by giving you a sense of purpose. You are no longer just bumbling through your days; there is work to be done; there is someone who needs you.
5. Pets Help Prevent Some Allergies
Pets have been shown to help prevent allergies. Over the past few decades, researchers have noted a rise in people's allergies, especially those with asthma. Pets are known to help alleviate allergic symptoms, especially for those with asthma. Pets can be therapeutic for those who suffer from allergies or asthma. When a person has to take breaks from school or work because of allergies, a pet can pick up the slack and provide the love and companionship they need.
6. Pets Can Help You Stay Active
Pets help older people stay active by encouraging regular exercise and outdoor activity. A dog owner is three times more likely to exercise than someone without a dog. In addition, a dog or cat can be your exercise buddy by joining you on a walk, run, or bike ride.
7. Pets Encourage Anticipation and Gratitude
Owning a pet can help you appreciate what you do have in life. Instead of focusing on what you don't have—such as the ability to go clubbing with friends or go on vacation—you're more aware of the little things that make up your daily life because pets are grateful for them. You'll find yourself anticipating the next time you get to see your pet and being grateful for what you do have instead of always longing for more.
8. Pets Can Be a Great Distraction
Pets can be a great distraction when trying to focus on something. Instead of constantly worrying about the problems in your life, you can focus on pet care, which is a lot easier to deal with. You will stop thinking about how bad you feel and instead enjoy the companionship that they provide.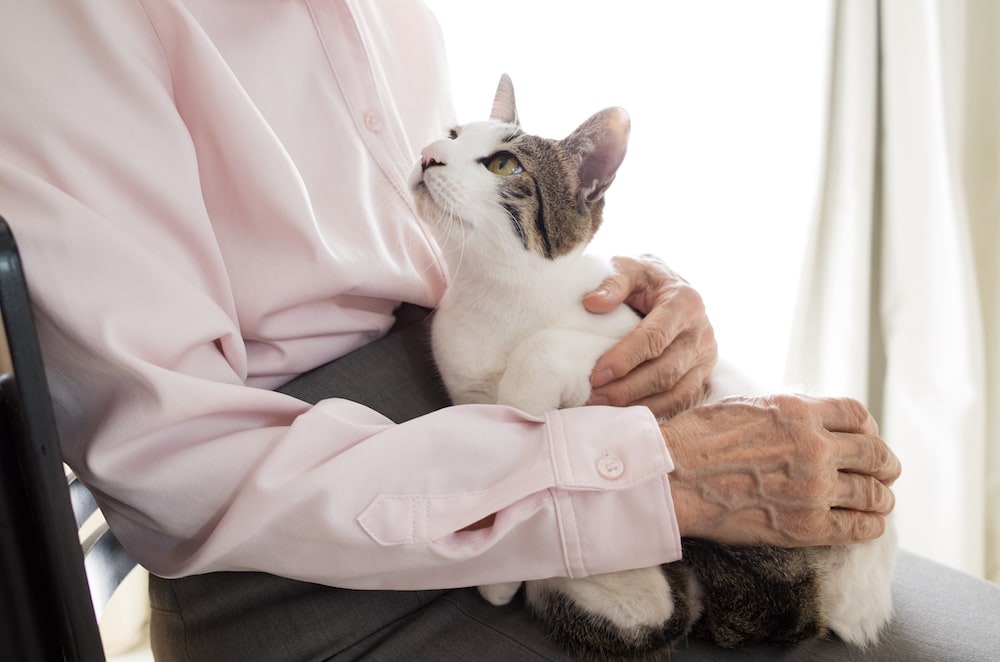 9. Pets Reduce Your Heart Disease Risk
Studies have shown that pets can reduce one's risk of heart disease by 50 percent. According to studies, this is because pet owners are more likely to be active and spend time outdoors, reducing their risk of heart disease.
10. Lower Cholesterol
The benefits of spending time with a pet include pet owners having lower cholesterol levels than those without animals. This is because the tendency to exercise and walk outdoors more often is likely linked to having a pet. With lower cholesterol, you'll be reducing your risk of heart disease and, consequently, prolonging your life.
11. Provide Companionship
One of the most important benefits of owning a pet is companionship. Pets do not judge; they just love you unconditionally, which can be extremely comforting no matter your age. If you feel lonely or depressed, they will always be there for you to lean on and to remind you that not everyone in the world is out to hurt you.
12. Pets Can Reduce Stroke Risk
People who own pets are less likely to suffer from a stroke. Those who have had strokes in the past and want to reduce their risk of a future stroke should get a pet because they will encourage you to walk. Cats have even been proven to help reduce the brain damage caused by strokes. When you walk, your heart pumps blood more efficiently and increases oxygen flow, which also helps reduce brain damage. More oxygen means less brain damage!
13. Pets Stimulate The Brain
Studies have shown that people who spend time with pets are more intelligent than those who do not own a pet. This is because a pet stimulates the part of the brain associated with memory and learning. Owning a pet can help boost your memory and keep you mentally sharp (which will also help you in school).
14. Stimulate Your Circulatory System
Pets stimulate the entire circulatory system. They help keep the blood flowing throughout your body, which benefits people with circulatory problems, including heart failure and peripheral vascular disease. As part of your physical therapy program, you should spend time petting your cat or dog.
15. Overcoming the Limitations of ADHD
As mentioned earlier, seniors with ADHD can benefit greatly from pet ownership, especially if they struggle to keep a job or maintain relationships. Pets help them overcome the limitations of ADHD by helping them focus, have better social interactions, and manage their emotions.
Pet Friendly Senior Living
In conclusion, pets are an important part of life for many seniors. They can provide seniors with many benefits for health and well-being. After all, seniors often look for ways to improve their quality of life and have a greater sense of purpose. When you own a pet, whether a dog, cat or another animal, that animal becomes the focus of your life. If you spend time caring for your pet day after day and enjoying their company, you will find that you are living a more enriched life for yourself and your pet.
Integracare provides four types of care: assisted living, memory care, independent living, and short-term/respite care. We have 18 communities in Pennsylvania, Maryland, and Virginia. Each of our communities has the same high standards of care. For more information about one of our communities, please contact us.