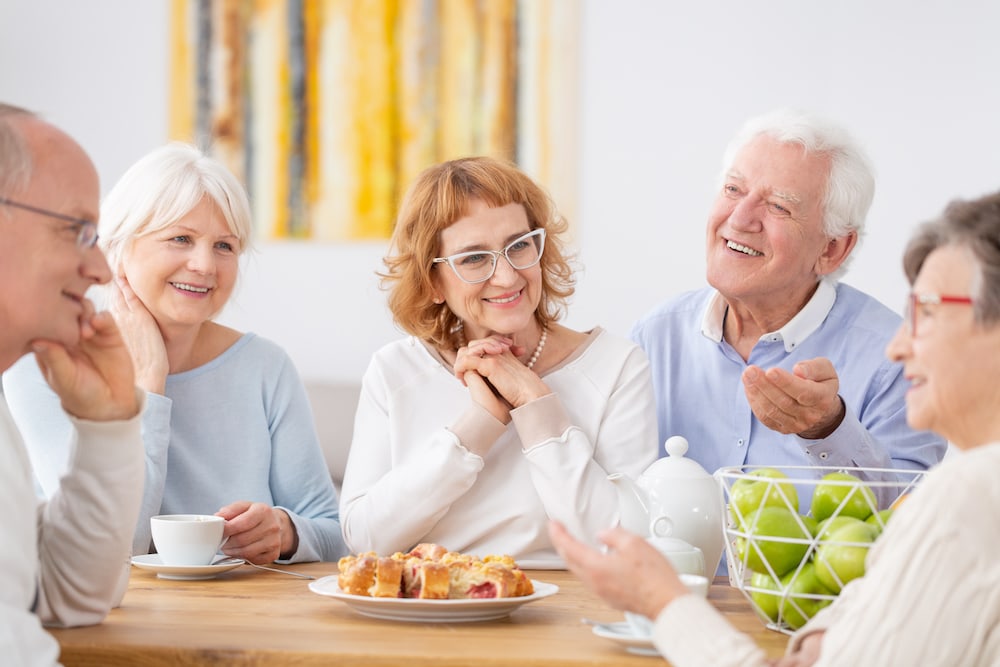 As we age, it becomes increasingly important to maintain an active and engaged social life. Regular socialization provides older adults with a myriad of benefits, from improving mental and physical health to fostering a sense of belonging and purpose. In this blog post, we'll explore the reasons why socialization is so crucial for seniors, and provide some practical tips on how they can socialize better in their daily lives.
The Importance of Socialization for Older Adults
Mental Health Benefits
Staying socially active can have a significant impact on an older adult's mental health. Regular social interactions can help combat depression, anxiety, and feelings of isolation. Moreover, social engagement can keep the mind sharp and reduce the risk of cognitive decline and dementia.
Physical Health Benefits
Socialization can also have a positive influence on physical health. Engaging in social activities often involves some level of physical activity, which can help improve physical fitness. Furthermore, older adults who maintain strong social connections are likely to adopt healthy habits like exercising regularly and eating a balanced diet.
Emotional Health Benefits
Emotionally, socializing allows seniors the chance to form and maintain meaningful relationships. These connections also provide a crucial support system for navigating the challenges of aging.
How Regular Socialization Can Improve Quality of Life
1.) Reduced Feelings of Loneliness
Loneliness can be detrimental to an older adult's health and well-being. Regular socialization helps combat these feelings. This will also ensure that seniors remain a vital part of their community!
2.) Increased Cognitive Function
Staying socially engaged can help seniors maintain and even improve their cognitive function. For example, it's a good idea for seniors to participate in mentally stimulating activities. Playing games or having a lively conversation can help keep the brain sharp and alert.
3.) Enhanced Emotional Support System
A strong social network provides older adults with an invaluable emotional support system. Friends and family can offer encouragement, empathy, and advice during difficult times. The resulting emotional security this can provide is invaluable. 
4.) Boosted Self-esteem
Social interactions can boost an older adult's self-esteem by providing opportunities for positive feedback and recognition. Feeling valued and appreciated by others is an important contributor to overall self esteem. 
5.) Greater Sense of Purpose
Regular socialization can help seniors maintain a sense of purpose and meaning in their lives. In addition, engaging with others and contributing to the community can foster a sense of accomplishment and satisfaction.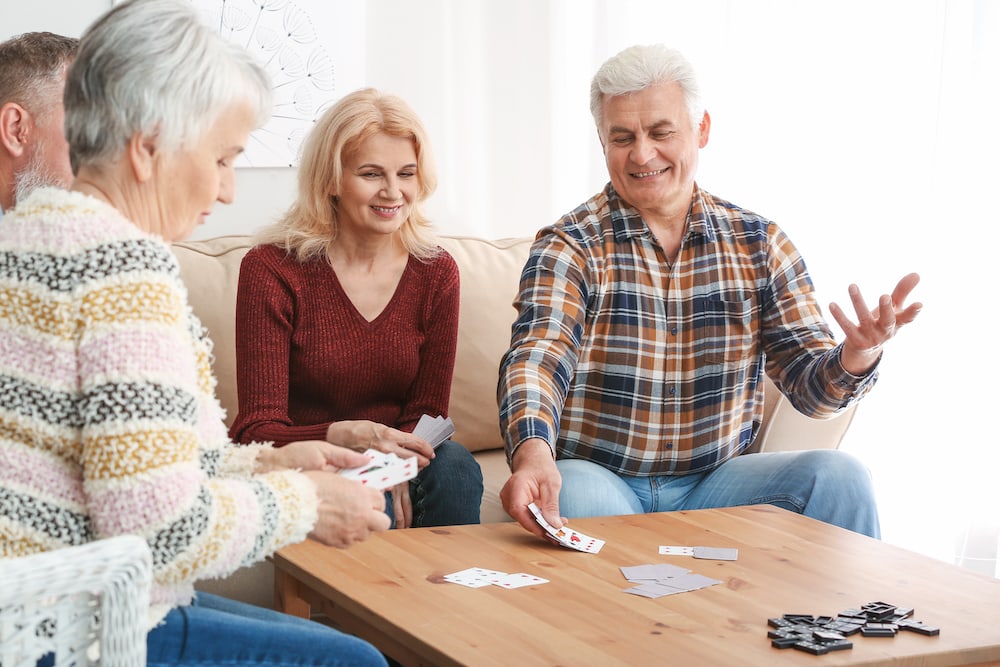 Ways to Encourage Socialization in Older Adults
Joining Clubs or Groups
Seniors can participate in clubs or groups that share their interests, such as book clubs, gardening clubs, or hobby groups. These gatherings are especially common in senior living facilities and provide a welcoming environment for older adults to connect with like-minded individuals. These environments can help seniors create meaningful relationships and feel a greater sense of belonging.
Volunteering
Volunteering is a fantastic way for older adults to stay socially active while giving back to their community. Offering their time and skills to local organizations not only benefits others, but also allows them to feel valued and appreciated for their efforts.
Participating in Family Activities
Involving seniors in family gatherings, celebrations, or simple day-to-day activities can have a profound impact on their emotional well-being. Spending time with loved ones strengthens bonds and helps them keep an active interest in their family's lives. 
Taking Classes
Enrolling in classes or workshops can provide older adults with the opportunity to learn new skills and interact with others. Whether it's an art class, a cooking workshop, or a dance course, participating in educational activities can stimulate the mind and encourage social connections.
Attending Community Events
Local community events can be excellent opportunities for older adults to socialize and engage with others. Attending these events can help older adults feel connected to their community and foster a greater sense of belonging.
Overcoming Barriers to Socialization
It's important to recognize that older adults may face various barriers to socialization, such as mobility issues, hearing or vision impairments, or concerns about personal safety. However, if we provide support and encouragement when necessary, we can help them overcome these obstacles and reap the many benefits of regular socialization.
Conclusion
In conclusion, regular socialization offers a myriad of benefits for older adults, including improved mental, physical, and emotional health, as well as a greater sense of belonging and purpose. By encouraging older adults to participate in social activities and fostering a supportive environment, we can help them maintain a vibrant and fulfilling life. 
One way to ensure a high standard of care and access to a variety of socialization opportunities is by considering a community like Integracare. With 18 communities across Pennsylvania, Maryland, and Virginia, Integracare provides four types of care: assisted living, memory care, independent living, and short-term/respite care. Each community is dedicated to offering the same high standards of care and ensuring that your loved ones receive the support they need to thrive. For more information about a community that can offer a nurturing and engaging environment for your elderly loved ones, please get in touch with Integracare.
FAQs
How can I help my elderly loved one stay socially active?
Offer support and encouragement, suggest activities they might enjoy, and involve them in family events. Additionally, help them find clubs or groups to join, and assist in overcoming any barriers to socialization they may face.
What are some social activities suitable for older adults?
Book clubs, gardening clubs, hobby groups, volunteering, taking classes, and attending community events are just a few examples of social activities older adults might enjoy.
Can socialization improve cognitive function in older adults?
Yes, staying socially engaged can help maintain and even improve cognitive function, as it often involves mentally stimulating activities and conversations.
Why is it important for older adults to have a strong emotional support system?
A strong emotional support system offers encouragement, empathy, and advice during difficult times.
How can regular socialization reduce feelings of loneliness in older adults?
Socialization provides opportunities for connection and companionship, ensuring older adults remain a vital part of their community and fostering a sense of belonging.